SEPTEMBER 20TH - 22ND 2019
MARS HILL, NC
Discover yourself and the world around you in a new light free of dogma.
It has always been the mission of Recovering from Religion to help those struggling with doubt, seeking answers, and moving away from religion and a religious lifestyle. In the 10 years we've been helping people, what has become abundantly clear is that getting through this transition and asking these questions isn't enough. There has to be some light at the end of the tunnel. There has to be joy, community, and fulfillment for people on the other side of doubt and uncertainty.
The Recovering from Religion Fall Excursion is for people looking to find their way into that happiness.
Our Excursion is set amidst the tranquil mountains of North Carolina in a private venue where attendees can find guidance, friendship, and experience personal growth in a warm and accepting environment. We have planned events and workshops so that you can have fun, learn, relax, and do as little or as much as you like. We will have several trained volunteers as well as mental health specialists on site to make sure that everyone's experience is just right for them.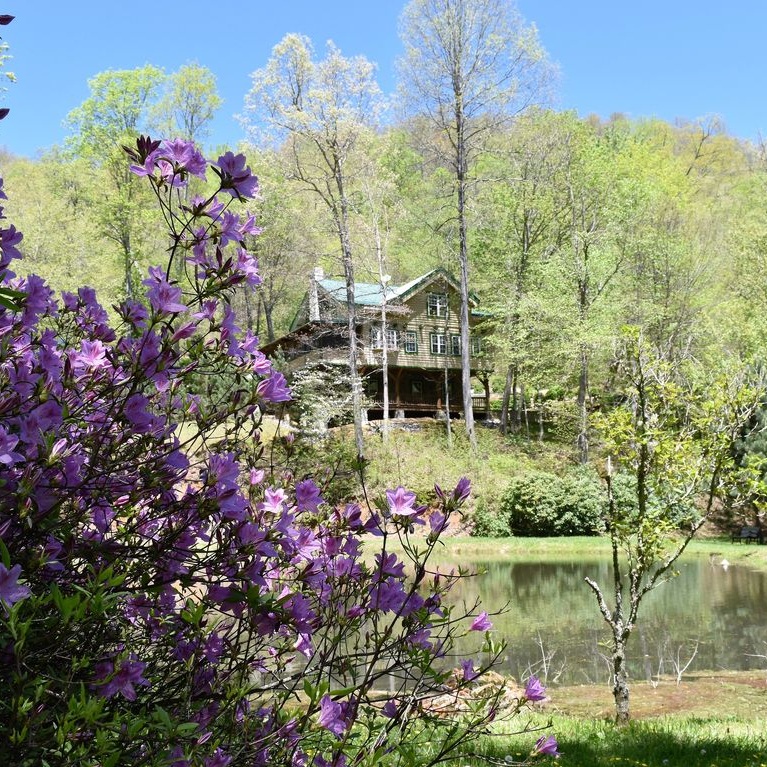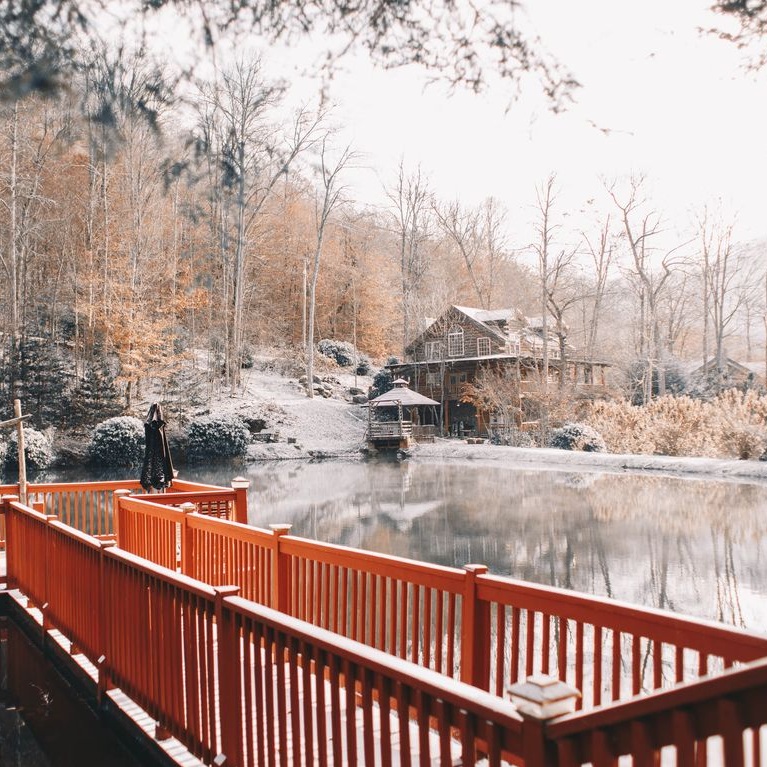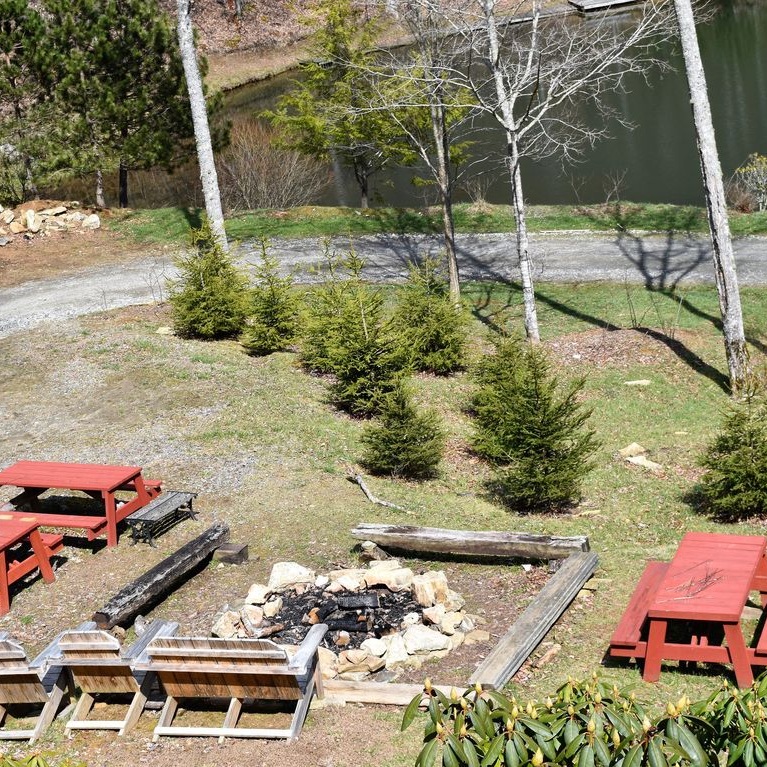 Four expansive lodges nestled amidst the autumnal colors of the surrounding forest sets the scene for a weekend of recovery and fun. Covered wraparound porches, vaulted great rooms, and a lakeside covered gazebo provide ample space for weather-proof events.
The location also has over a mile of hiking, waterfalls, several creeks, and a lake with a dock for swimming and fishing. Fire circles are shared by the main accommodation lodges and are available for general use and as part of planned activities.
Attendees are free to enjoy as many of our events as they like and are welcome to lounge in the great rooms, reading nooks, and plentiful outdoor spaces in between offerings.
Friday, September 20th

4:00PM - Arrivals and Greetings: Guests check-in to their lodges and are greeted by their cabin hosts. Cabin hosts will help to acclimate everyone to the grounds, their lodge, and their individual rooms and sleeping arrangements.

5:00PM - 7:00PM Tasting Reception: All guests are encouraged to enjoy an offering of small bites, seasonal fare, wine, beer, cider (alcoholic and non), soft drinks, tea, coffee, and hot cocoa. Guests will have an opportunity to meet each other and hear a few words from us about the rest of the weekend.

7:00PM - 8:00PM Informal light dinner at the lodges.

8:00PM - 9:00PM - The Psychology of Religious Infection presentation from Darrel Ray. Get the weekend started off by delving into why religion can be so harmful and how to move forward after experiencing trauma.
Saturday, September 21st
ALL DAY: Enjoy the company of Special Guest, Sarah Rocksdale, lifestyle Youtube and Instagram personality who has branched outside of health, beauty, and fitness to focus on mental health and her own journey away from Pentecostal Christianity. Sarah will be enjoying and documenting our program. Feel free to share your own story with her!

7:00AM - 9:00AM - Breakfast prepared and served at your lodge

9:00AM - 9:45AM - Morning group session and guided meditation with Candace Gorham focusing on relaxation and guided imagery to set the tone and prepare for a day of exploration of self and environment.
10:00AM - 12:00PM - Nature Hike with Darrel Ray: Join Darrel on a fun and engaging hike through the venue grounds and into the forest. Learn about native plants and animals and reconnect with nature through a secular perspective. Hike is about 1.5 miles long and taken at a relaxed pace.

12:10PM - 1:00PM Fear of Hell Group Support Sessions and Presentation from Hayley Twyman Brack. Fear of Hell and other afterlife consequences are a common issue for many people. Learn how to address these beliefs and move forward without this lingering anxiety.

1:00PM - 3:00PM - Lunch served and prepared at your lodge

3:00PM - 4:00PM - Dogma-free Sexuality Discussion and Workshop - Dr. Darrel Ray and Mackenzie Parks will present modern facts about human sexuality and how many religions may interfere with a healthy mentality about sex. There will be plenty of time for follow-up discussion as well as some games and activities to help facilitate comfort and open discussion.

4:10PM - 5:00PM Afternoon group session and guided meditation with Candace Gorham focusing on relaxation and guided imagery to encourage reflection of the day.

4:10PM - 5:10PM - Street Epistemology Workshop with Todd Yoder - Street Epistemology is a fun and productive way to talk to people casually about any deeply held belief. Learn how to interact thoughtfully with people who may hold beliefs that are different from your own while encouraging them to think and question ideas.

6;00PM - 10:00PM - BYOB Barbecue Dinner and Party - Meet back at the lodge for dinner, music, dancing, and fun! Water, tea, and lemonade will be provided with a side-splitting barbecue spread. Please feel free to bring any additional refreshments for your own enjoyment or to share with other adults. Ice and a make-your-own cocktail bar will be available. After dinner, stick around for music, dancing, and chatting into the night.

Enjoy and benefit from the wisdom and insights of our special guest, Mandisa Thomas, President of Black Nonbelievers. Mandisa will also be kicking off the party by hosting karaoke. Get your songs ready!
Sunday, September 22nd
7;00AM - 9:00AM Enjoy freshly prepared breakfast at the lodges.

9:00AM - 10;00AM - Creating New Traditions Workshop with Gayle Jordan - Learn how to mark significant life events and milestones that are meaningful to you. This workshop will help you to think of these events without religious or dogmatic constraints so that you are better able to celebrate in ways that resonate with your beliefs and values.

10:00AM - 11:00AM - Farewell remarks.
Each Lodge on Memory Mountain is outfitted with modern amenities to include all linens, kitchens stocked with appliances, dishes, and cookware, plenty of seating, and cozy fireplaces. In addition to these comforts, each lodge will also have a designated cabin host to make sure that guests are comfortable and that all needs are met. Cabin hosts will also have some snacks and supplies as well as plenty of information about the event and venue should guests have any questions.
Below, you will find information and several pictures of each lodge. Click on the lodge to see what rooms and sleeping areas are available as well as additional pictures of each lodge. Accommodations of each room or sleeping area will vary. These variances are reflected in the pricing and individual descriptions of each room or sleeping area. Lodge reservations may only be made for the entire weekend (two nights). Check-in for lodges is at 4PM and check-out is at 12PM. Guests who stay onsite are able to purchase their event registration at a reduced rate.
PLEASE REMEMBER TO PURCHASE YOUR EVENT REGISTRATION IN ADDITION TO YOUR LODGING.
Please feel free to email us: info@recoveringfromreligion.org with any questions.
Fall Excursion Event Registration
The Recovering from Religion Fall Excursion is an event for adults on their own, partners, and families. We have registration options for adults, depending on whether you will be staying at our onsite lodges or offsite at a nearby hotel or other alternative accommodation. We also have registration options for children based on age. Although children three year of age and younger are free, we ask that you register them so that we can plan for your family's comfort. Those who choose the onsite registration option will be checked against our lodge accommodation records, so please be sure to book your lodge first or soon after booking your event registration. All meals are included in the event registration and you will be able to inform us of any special dietary requirements in the registration form.
Our event schedule is subject to change and we may have to modify some activities due to weather or ask you to commit to certain activities in advance so that we can make sure it is properly staffed. In registering for the Fall Excursion, you also authorize us to send you periodic emails with updates and short polls as may be necessary for us to keep you informed and plan ahead. If you have any questions or concerns, please email us at: info@recoveringfromreligion.org.
Sponsorship Opportunities
The Recovering from Religion Fall Excursion aims to help people in doubt and in religious transition to find a path forward that gives them a sense of hope, peace, and purpose. Our sponsors would be an important part of that journey not only in helping to provide financial support for this event, but in being included as resources, solutions, and supportive members of our attendees' potential community.
Thanks so much to our sponsors!
News and politics from an atheist and skeptical view. Cecil and Tom have been friends for over 20 years and in addition to making family and friends laugh whenever they get together, they enjoy bringing their own unique and crass brand of humor to the studio for listeners to enjoy. What you hear is really just two friends getting together to discuss news and politics… mixed with some foul language and inappropriate jokes.

The Jefferson Humanist's mission is to expand an ethical and life-affirming Humanist Community devoted to science, reason, inclusion and social responsibility. Through community building, lectures, social activism and discussion we expand our member's awareness, gain an understanding of the issues facing the world and provide learning opportunities through guest speakers on a variety of topics.
Frequently Asked Questions
Where is the venue?
The name of the venue is Memory Mountain at Wolf Laurel.
The address is: 2854 Puncheon Fork Road Mars Hill, NC 28754
The address will work properly using a GPS and there will be a sign for the "RfR Fall Excursion" as you near the entrance. There will be a large event barn and pavilion with the lodges located further up the entrance road. Each lodge will have a sign with its name with the exception of Black Bear. We will have volunteers available to help you navigate the grounds and find your accommodations.
What should I bring with me?
All linens are provided and these lodges are fully modern homes with running water and electricity. No "roughing it" required. Please bring whatever it is you need to have a comfortable stay for two nights away from home. We will have both indoor and outdoor activities, so plan on staying cool, warm, or dry depending on the weather.
You might also like to bring books you enjoy, books you might want to reference during any of our workshops or talks, instruments to play around the campfire, or any favorite drinks or snacks. You are permitted to bring your own alcoholic beverages and smoking/vaping is permitted outside only.
What other accommodations are nearby?
The closest hotel is the Comfort Inn in Mars Hill, NC, just on the edge of town, and about a 15-20 minute drive away from the Excursion. You are welcome to stay offsite and drive in for the day. There are also several other cabins and lodges within 20 minutes drive of the Excursion. Guests staying at the Comfort Inn in Mars Hill will be able to take advantage of a limited-run shuttle to and from the Excursion venue.
Are pets allowed?
We allow service animals in the lodges and require that owners leash them and clean up after them properly. Because lodges are shared, and we can't know the temperament of every pet, we can't allow non-service animals in the lodges.
Will there be child care?
We will be planning activities for children who are registered so that adults may attend Excursion events that may not be kid-friendly while their children participate in a different activity. Guardians must remain onsite while their children participate in Excursion activities. Recovering from Religion volunteers will lead all children's activities.
Which airport should I use if I'm flying in?
The Asheville Regional Airport is the closest to The Excursion at only about 27 miles away. Additionally, our volunteers will be providing a limited shuttle service for those who are flying into this airport.
The Tri-Cities Regional Airport is about 46 miles away from the Excursion.
The Greenville-Spartanburg International Airport is about 67 miles away from the Excursion.
I have a question that isn't answered here.
We're happy to answer any questions you have and thank you for reaching out. Click the button below to send us your questions. We will respond within 48 hours.
Refund Policy:
Event registration and lodge accommodations may be cancelled or changed with a full refund and no penalty up to 60 days before the event begins. After this period and up to seven days before the event, there will be a 20% cancellation charge. Refunds will not be issued for cancellations that occur seven days before the beginning of the event or later. Any questions regarding this policy, concerns, or requests for specific accommodations may be sent to: info@recoveringfromreligion.org
Code of Conduct:
Substance Use, Alcohol, Smoking and Firearms: Please follow all North Carolina State laws regarding the use or consumption of any substance. Smoking or vaping of any kind is not permitted inside of any structure onsite. Please dispose of any ashes, butts, bottles, or any other garbage inside of garbage receptacles. Absolutely no firearms of any kind are permitted onsite or in lodges.
Littering: No littering of any kind will be tolerated. All garbage and/or food remnants must be properly disposed of in trash receptacles. In natural areas where a trash receptacle is not available, you must retain your garbage until you reach a trash receptacle.
Bathrooms: There are two bathrooms in the Barn itself and several in the Lodges. Despite wooded surroundings, you must use bathrooms. If you are in a natural area that is not within reasonable sight or walking distance of a bathroom, please use discretion and keep all human refuse buried as is necessary and well away from any trails.
Pets: We do not allow pets to stay in the lodges with the exception of service animals. Owners are expected to keep their service animals leashed and owners must clean up after their service animals.
Noise: Please be respectful of the activities in session throughout the day and night and please be respectful of your lodgemates and neighbors. The time between 11PM and 7AM are considered quiet during which loud music, talking, and singing outside are prohibited.
Food and Drink: Attendees are permitted to bring food or drink with them anywhere onsite and may imbibe or snack as long as they are not being disruptive to any activities or other attendees. If there are spills, please clean it up promptly or ask for help if needed.
Name Badges: Please wear your name badge whenever you are outside of your lodge or elsewhere onsite. Name badges allow us to make sure that everyone is an Excursion participant. Name badges will also be color-coded according to whether participants want their presence noted in pictures, videos, or writing. Those wearing red badges should not have their picture or video taken, purposely or inadvertently, or have their name shared in writing on any social media, blog, or other website.
Harassment: The Recovering from Religion Fall Excursion is meant to be a welcoming and safe place for all people, regardless of their beliefs, non-beliefs, race, color, national origin, age, disability, sex, sexual orientation, gender identity, or gender expression. We will not tolerate the harassment of any attendees in any form. Sexual harassment or misconduct is considered unwanted attention of a sexual nature and may include:
-Remarks about someone's appearance.
-Unwanted flirtations.
-Suggestive or sexual pictures
-Touching someone without their permission
-Coercive talk or behavior concerning sex
-Unwanted contact of any nature
Any attendee may report, at any time and without fear of reprisal, harassment of any nature to any Cabin Host or other Recovering from Religion Board Member, Staff to include the Executive Director, or Recovering from Religion Fall Excursion volunteer.
If you aren't certain whether your words or actions are welcome, it is your responsibility to seek unequivocal positive consent. If you do not receive unquestionable positive consent, you run the risk of making others uncomfortable, being removed from the event, or other consequences.
Discipline: It is our goal to achieve the best possible outcome for all of our attendees, which means contributing to an overall reasonable sense of comfort and safety. Attendees who violate this code of conduct may be advised as to their behavior, limited in what activities they may attend, or removed from the event as we see fit. No refunds will be provided for those who are required to leave due to their misconduct.
Emergencies and First Aid: Every lodge is outfitted with a first aid kit for the purpose of attendees to self-administer non-critical first aid as is necessary. If you experience an emergency, please call 911 and notify the nearest volunteer as you are able.
Reviews from our attendees